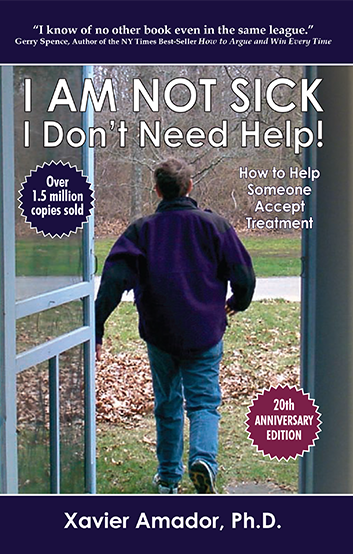 "This book fills a tremendous void…" wrote E. Fuller Torrey, M.D., about the first edition of I AM NOT SICK, I Don't Need Help! Twenty years later, it still does.
Dr. Amador's research on poor insight was inspired by his success helping his brother Henry, who developed schizophrenia, accept treatment. Like tens of millions of others diagnosed with schizophrenia and bipolar and substance abuse disorders, Henry did not believe he was ill.
I AM NOT SICK, I Don't Need Help! is not just a reference for mental health and criminal justice professionals. It is a must-read, step-by-step guide for family members whose loved ones have been devastated by mental illness.
Learn as have millions of others worldwide…to LEAP®— Listen, Empathize, Agree, and Partner—to help your patients, loved ones, and others accept treatment.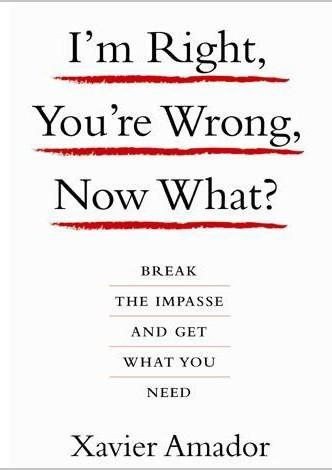 They happen everyday—those circular "I'm right, you're wrong!" arguments. At home, at work, or on the street, people lock horns about all kinds of things. These situations frustrate both parties, stall progress, and hurt relationships. But they don't have to. In his latest and most detailed book on LEAP (the Listen-Empathize-Agree-Partner method first developed to convince people in denial to accept help), Dr. Amador shows you how to stop arguing, start listening and persuade your adversary—and that is what even loved one's become during disagreements about who's right and who's wrong—to give you what you need.
Stop arguing and LEAP to break the impasse!
Dr. Amador's most detailed book on LEAP to date – gives you the tools and strategies to:
– diffuse anger and lower defenses
– get past stubbornness and even denial
– ask for your opinion, instead of argue against it
– get stalled negotiations moving again
– turn adversaries into allies
– create positive and productive relationships that get you what you need
I strongly recommend this book for [both] families and therapists.
I know of no other book even in the same league.
This is a wonderful book bringing together the personal experiences of a psychologist [who had a brother with schizophrenia]. Dr. Amador s research and clinical experience makes this book a rich source of information and practical advice. It is one of the salutary characteristics of our culture that people who experience pain convert that pain into something productive. People who are victimized by, stressed by, and dismayed by serious mental illness will find this book enormously helpful. It contains information about new research and concrete advice that will be of enormous help to both the families of the seriously mentally ill and to the mental health professionals who care for them.